Guidelines from the CDPH
What to do if you test positive for COVID-19
Stay home for at least 5 days

Isolation can end after day 5 if symptoms are not present or are resolving and a diagnostic specimen (antigen test preferred) collected on day 5 or later tests negative

If unable to test or choose not to test, and symptoms are not present or are resolving, isolation can end after day 10

If fever is present, isolation should be continued until fever resolves

If symptoms, other than fever, are not resolving, continue to isolate until symptoms are resolving or until after day 10
What to do if you are unvaccinated and/or not yet boosted and are exposed to someone with COVID-19
Stay home for at least 5 days after your last contact with a person who has COVID-19

Test on day 5

Quarantine can end after day 5 if symptoms are not present and a diagnostic specimen (antigen test preferred) is collected on day 5 or later tests negative

If unable to test or choose not to test and symptoms are not present, quarantine can end after day 10

If testing positive, follow the isolation protocol

If symptoms develop, test and stay home.
What to do if you are fully vaccinated and boosted (or not yet boost eligible) and are exposed to someone with COVID-19
Test on day 5

If testing positive, follow the isolation protocol

If symptoms develop, test and stay home
March 4, 2022
RE: Mask Mandate
Dear People of Palma,
As you know, the statewide indoor masking mandate was lifted for vaccinated individuals in some indoor locations, effective February 15. On February 17, Governor Newsom released a document entitled California SMARTER Plan, which was revised on March 2. The plan summarizes a shift in the state's efforts against the pandemic to an "endemic" approach to the coronavirus, which includes a series of measures to prepare us for future threats of COVID-19, while we face the realities of the disease with us into the foreseeable future, in one form or another.
On February 28, California's Health and Human Services Agency Secretary, Dr. Mark Ghaly, hosted a video conference to provide an update on COVID-19 in California. His press release was streamed live on YouTube. The state has moved the mask mandate from required to strongly recommended for schools and childcare. Effective for all indoor events at Palma beginning Saturday, March 12, and more with classes starting the fourth quarter on Monday, March 14, masks will no longer be required on Palma's campus. However, anyone on campus may continue to wear a mask if he/she chooses to do so.
Palma School's success in remaining open for in-person activities has been dependent upon our care for one another, on and off campus. We have had no single exposure-related quarantine for students, coaches, or personnel since Friday, Feb. 11. While risk of viral transmission cannot be completely eliminated, it can be mitigated significantly by choices we make today. Students are encouraged to practice self-care, to minimize the spread of germs, and to avoid high-risk transmissible situations. Important still: please stay home when you, or any member of your household, are sick or experiencing COVID-19 symptoms. If you are symptomatic or exposed to a "case positive" follow all protocols as stated in our guidance. Moreover it is also important that we welcome and support those in our community for whom wearing masks is a priority. Among them are
those who are not eligible for a vaccine

those who have or live with others with disabilities and/or compromised immune systems

those with multiple chronic conditions including asthma, diabetes, lung disease and heart disease

those who wrestle with phobias of germs or feel more secure while wearing a mask
It is critical that no one is coerced, taunted or disrespected in any way for the choice one makes either way regarding the wearing of a mask, beginning March 12, 2022. We want to continue cultivating a Catholic campus where we are kind, respectful, inclusive, and safe.
Please understand that each of us is responsible for the common good of the Palma Family. Thank you for your support.
Go Palma!
Mr. David Sullivan
Principal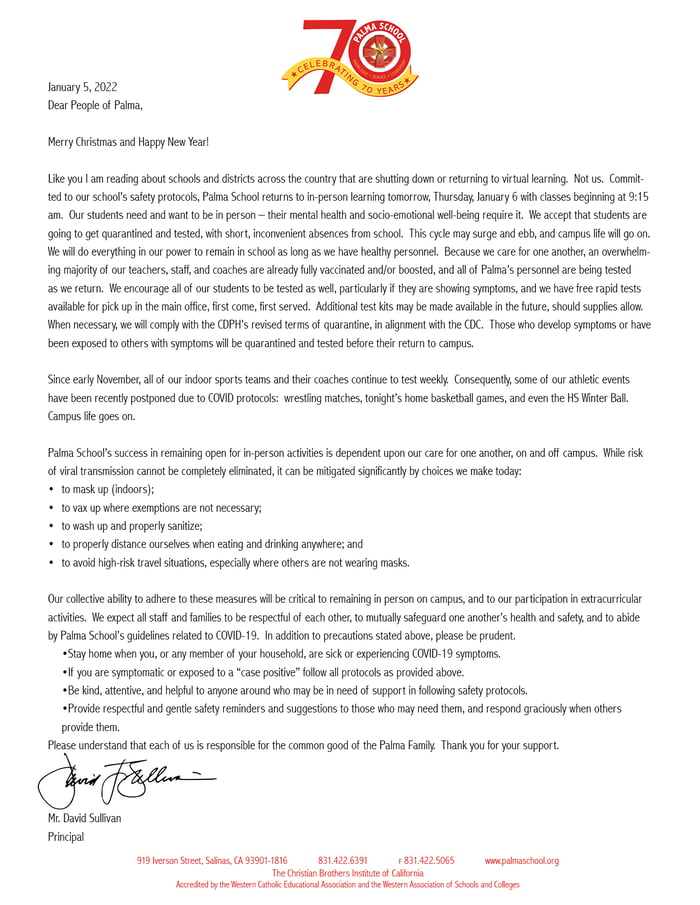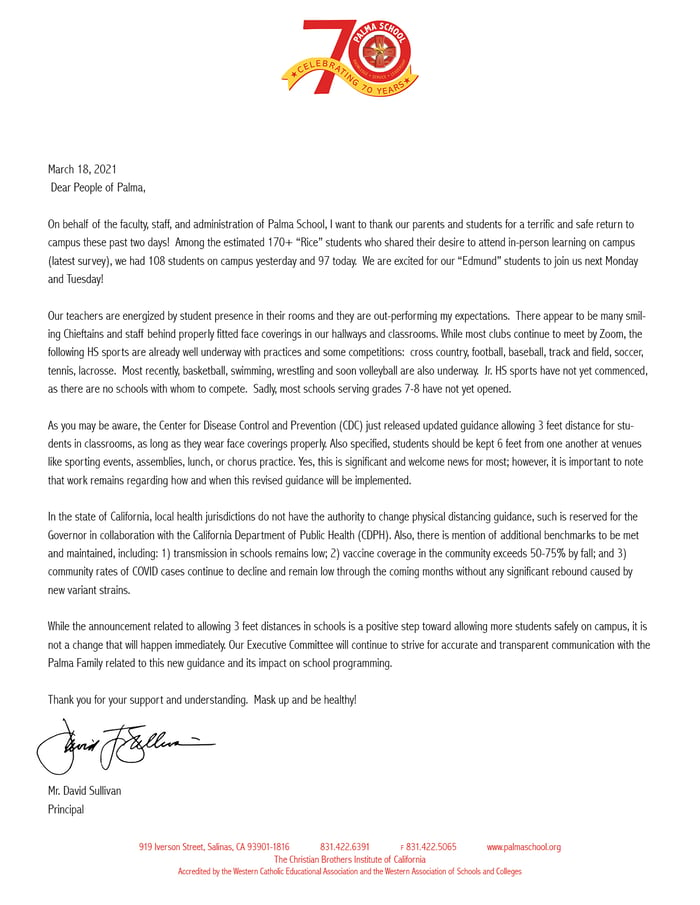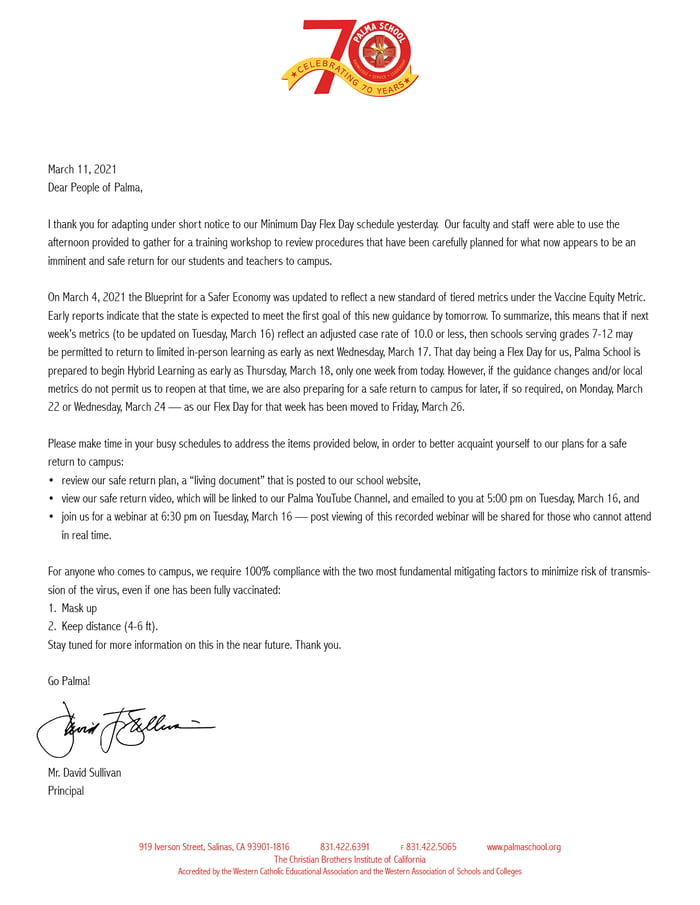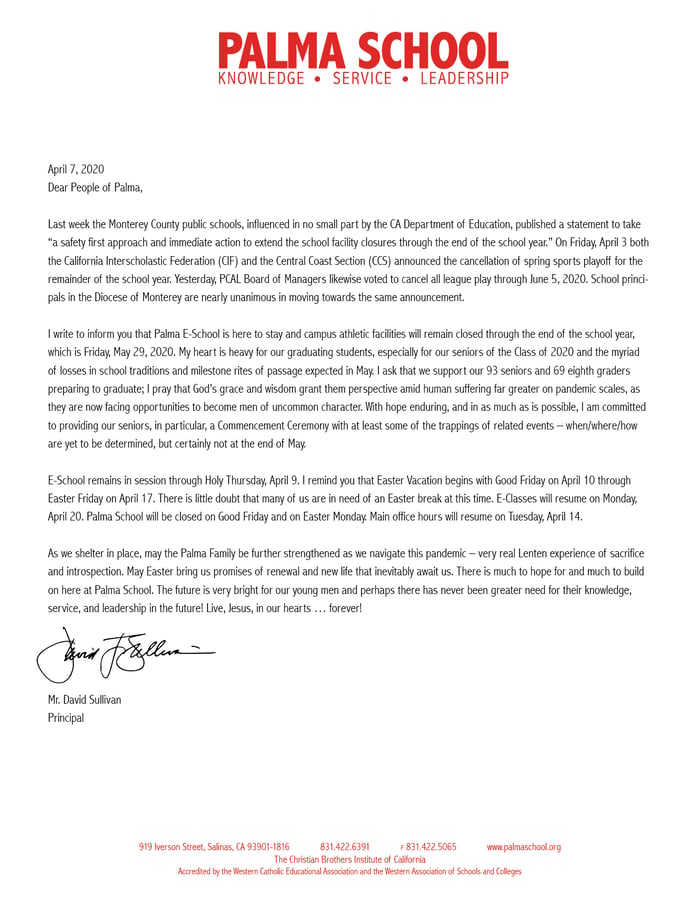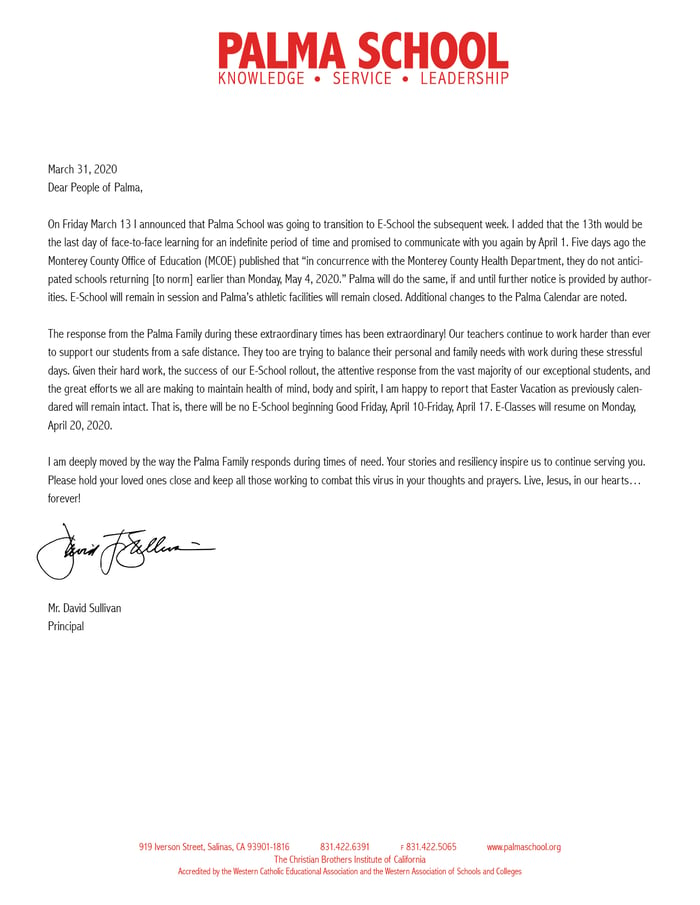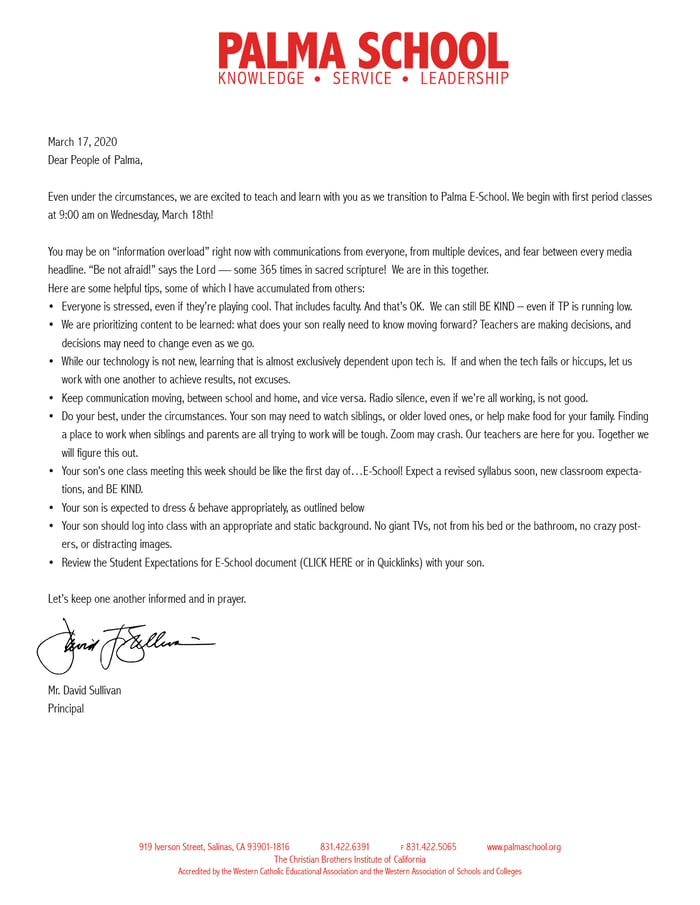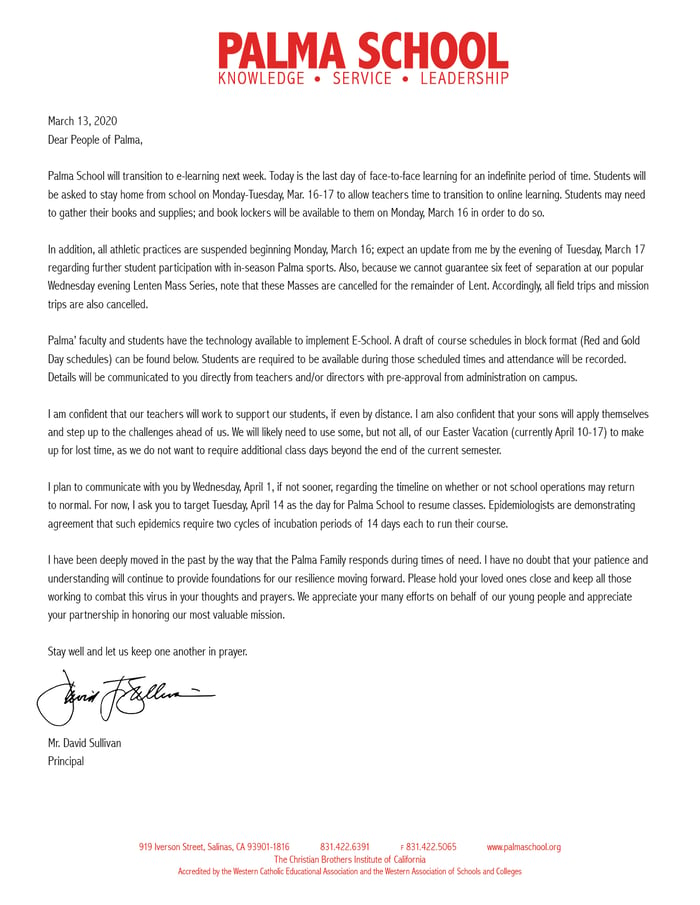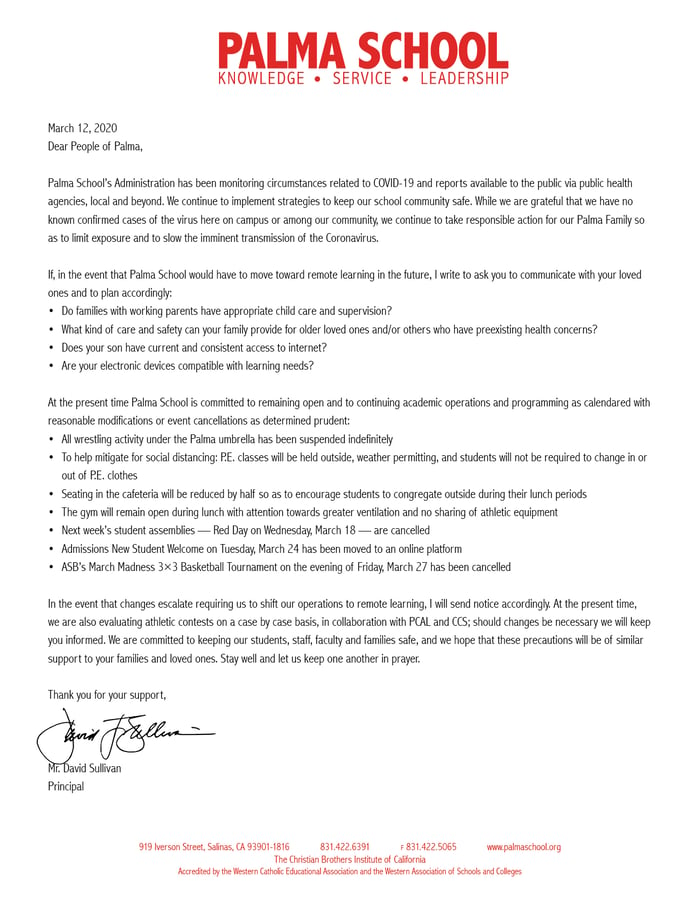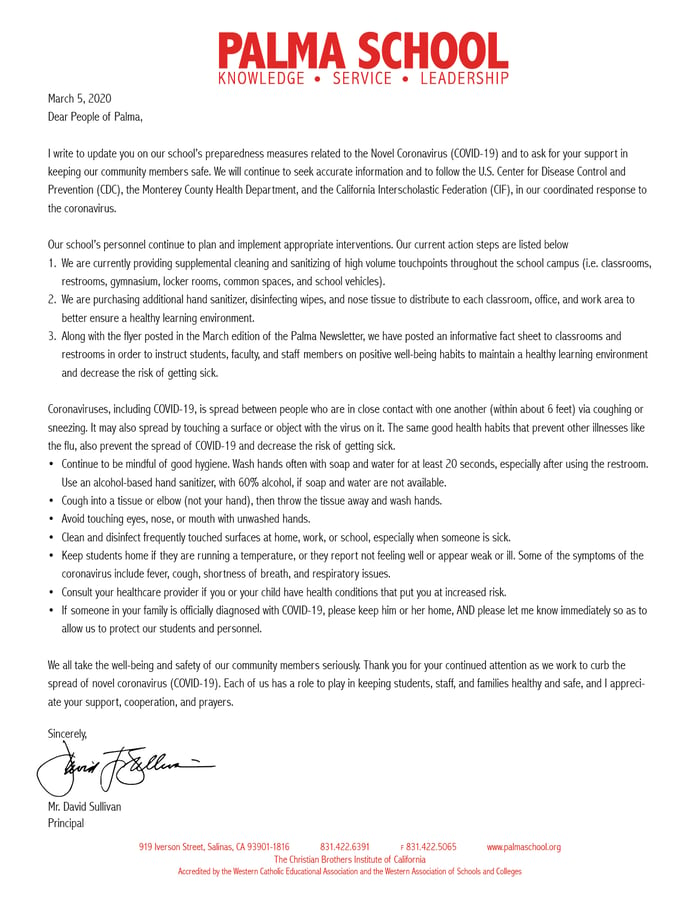 Let's Talk
We would love to hear from you. You can start the conversation by choosing a button below.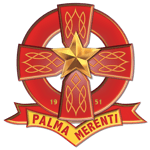 Mindful of our primary mission to be a witness to the love of Christ for all, Palma School admits students of any race, color, national and/or ethnic origin to all the rights, privileges, programs, and activities generally accorded or made available to the students at the school. Palma School does not discriminate on the basis of race, color, national and/or ethnic origin, nor age in administration of its educational policies, admissions policies, scholarship and loan programs, and athletic and other school-administered programs. While Palma School does not discriminate against students with special needs, a full range of services may not be available. Likewise, Palma School does not discriminate against any employee or applicant for employment on the basis of gender, age, disability, race, color, and national and/or ethnic origin. Palma School reserves the right to be a sole judge of merit, competence and qualifications, and can favor Catholic applicants and co-workers in all employment decisions, especially in those positions that have direct bearing upon the pastoral activity of the Church.